Biology Lab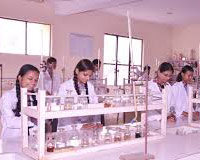 Biology lab of MCIS l is situated on the second floor of the school. All instruments (like microscope, slides, stains, forceps, etc.) required for performing the experiments for class VI-XII are available in the lab. It is well equipped bunsen burners, sinks with taps, fire extinguishers, etc. Other necessary assets such as ice box and waterbath are also available in laboratory is well equipped for class-room instructions. Models, charts made by students help in the classroom instructions.

The theory class is supplemented by a wide range of specimen. An array of slides and jar specimens ranging from bacteria to parasite or insectivorous plants stimulate in the minds of all age groups.
Lab is also equipped to cater to 40 students at time. The lab is well ventilated with lots of natural light.

In order to support Animal Welfare Act there is not a single specimen or any other thing made up of animal product.

Our organisation seeks to pursuade the responsibility for animals to provide best conditions possible for their living.

Labs are equipped with high standard of safety and support the core program of living science right from the early age. Skill experimentation is not only taught but encouraged under the supervision of trained teachers. Our medical aspirants are also being benefitted with Biology lab. They make their concepts more clear by doing experiments and their conclusions what they get certainly help them to face challenges in competitive world.