Principal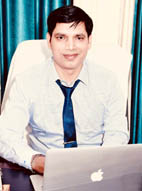 Dear Parents, friends and my chlidren,
My greeting to all !
Welcome to
Mount Columbus International School
, Simbhaoli, Hapur, a school with a caring staff and a safe and nurturing environment, where high expectations are the standard. The school takes pride in its excellent infrastructure which has been suitable planned to accommodate learning and all round development of the child. At
MCIS
, education is not just a process of giving knowledge for a future job but a lifelong process which creates an understanding of moral and ethical values to guide ones life and make our students hope of the country. 
We ignite the human spirit and the mind of our wards and teach them not what to think but how to think. Thus they can continue to grow and broaden their horizon, which is the object and reward of learning. Apart from the knowledge of facts, we emphasize on the knowledge of values and weave a variety of education experience into the fabric of school life. Our aim is the holistic development and nurturing of the unique qualities of each individual child entrusted. 
The child gets the knowledge from the school. However every child gets his/her emotional stability form parents. It is the parents attitude that a child absorbs and the interest and time that parents invest in children in crucial for their development. I request you to spend quality not quantitative time with your child to know about his/her friends, interests, problems. Encourage him/her always and listen to them patiently. Please do attend the PTM's regularly. 
At
MCIS
, we embrace the diversity of our students and are proud of their high academic achievements. We must continue to strive for improvements and celebrate our achievements. As the principal, I invite you to contest me if you have concerns, questions or ideas that will help our school keep its fine reputation. 
-Rajeev R Singh
Principal